#switchoffandlisten is an awareness-raising campaign on marine biodiversity, initiated by Portuguese artist and veterinarian Francisca Rocha Gonçalves in the framework of Magic Carpets, in collaboration with local organizations and initiatives. Through the series of performances and installations the results of research, artistic collaborations and educational programs were presented in Jelsa and surrounding areas, starting with Jelsa's harbour, continuing throughout the different locations in the city and ending with a bang in the bay of Zenčišća.
Throughout the research and three day events, Kika collaborated with a number of local and visiting artists: Sasha Aleksandar, Paulina Almeida, Vlatka Buj, Valerija Djanješić, Marica Gamulin, Domagoj Hmura, Jelena Kovačev, Ron van Roosmalen.
Collaborating organizations: TZ Jelsa, KUD Jelsa, Lantina association, Kružok association, Rowing club Jelsa, Vina Carić, Municipal museum Jelsa, Elektranz Laser, General library Jelsa.
Residency in Jelsa, Island Hvar (LAB852)
Photo: Nikola Radovani, Karmen Krasić Kožul, Marija Kamber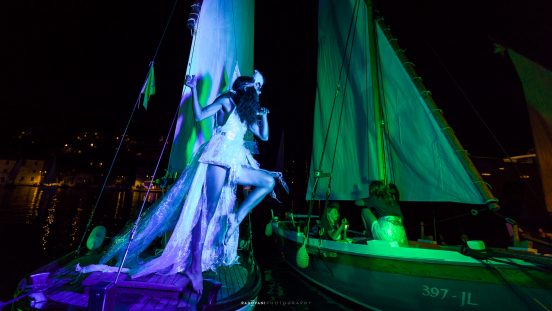 #visitjelsa #oceansoundscapeawareness #ugasiislušaj #lab852 #magiccarpets