LABORATORY OF SENSES 'WEIGHT'
Emerging artist: Aistė Jančiūtė (Lithuania)
Residency place: Folkestone Fringe (Folkestone, UK)
Practice: Textiles, experimental theatre, performance
Local artist: Jon Law
Curated by: Georgie Scott
We all experience pressing issues, occasional light-headedness or heavy thoughts. Sometimes they do feel like literally weighing us down. Others, on the contrary, knock us off our feet. Words tell us that ideas and feelings might sometimes actually be felt as physical sensations. And this MagiC Carpets story is about what happens, when you take a leap of faith, put on a blindfold, let yourself be guided, and walk around a room feeling the weight of your thoughts descending on your shoulders.
The author of this challenging yet rewarding experience is Aistė Jančiūtė, an emerging MagiC Carpets artist based in Vilnius, Lithuania. Aistė has a particular interest in movement as a creative process, during which her ideas, senses, skills and knowledge come together in innovative ways.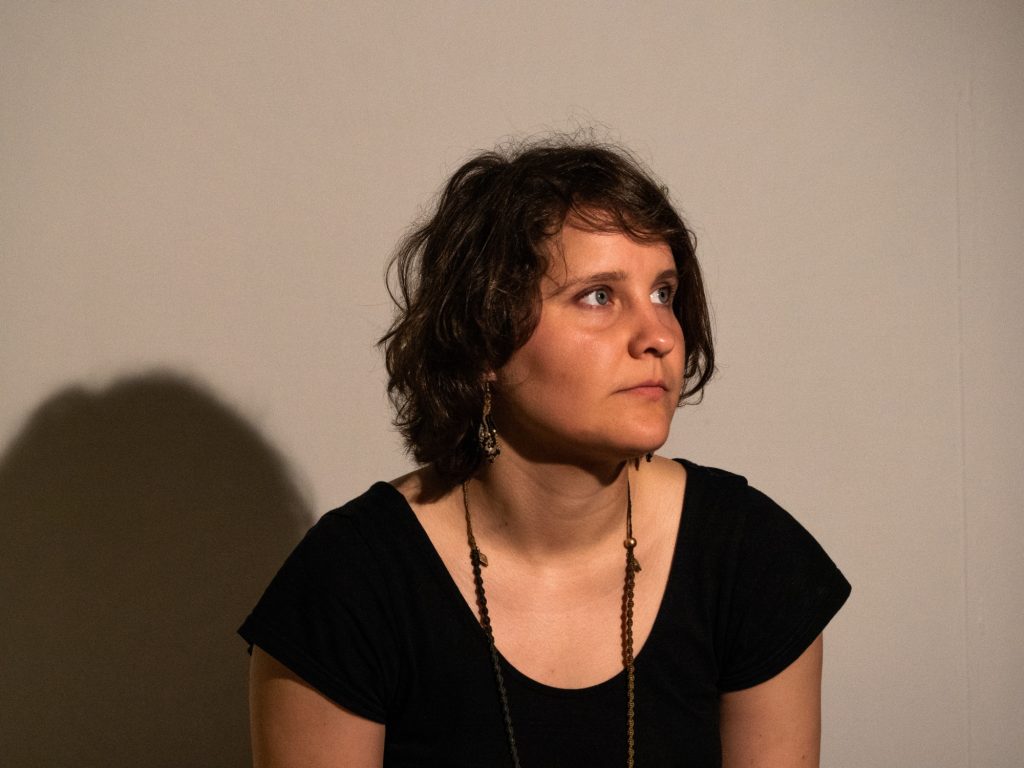 During a month of her residency from mid-April to mid-May in Folkestone (UK), Aistė stayed true to her artistic aspirations, blurring the line between the physical sensation of weight and the way it feels to our psyche. She explored how this relation can be manifested in a physical world and how this exploration can use the coastal town not barely as a setting, but something inextricably embedded in her work.
A month of extensive work with the local community, artists and the curator Georgina Scott, allowed her to achieve exactly that. Aistė's thorough exploration of space, textures, people and the context of the city, allowed her to create the final project as diverse in its mediums, as the topics it covers.
It all focuses around the perception of weight – psychologically, physically, and philosophically – and how it shifts in different parts of the world. Naturally, the senses are crucially important in Aistė's project, as her work tries to answer the question of how our experience and perception change, when put in an environment, where our senses are being altered/controlled.
Aistės laboratory-exploration-performance was presented during "Normal? Festival of the Brain", in collaboration with Jon Law, a local sound artist who created two sound pieces for Aistė's final installation, as well as dance artists Jacob Bray (UK) and Siobhan Ni Dhuinnin (MagiC Carpets artist-in-residence from Ireland). Sand, chalk, and shingle from the local shores also played their part. Used inventively to create the sensation of weight, these local materials introduced a new dimension to the project.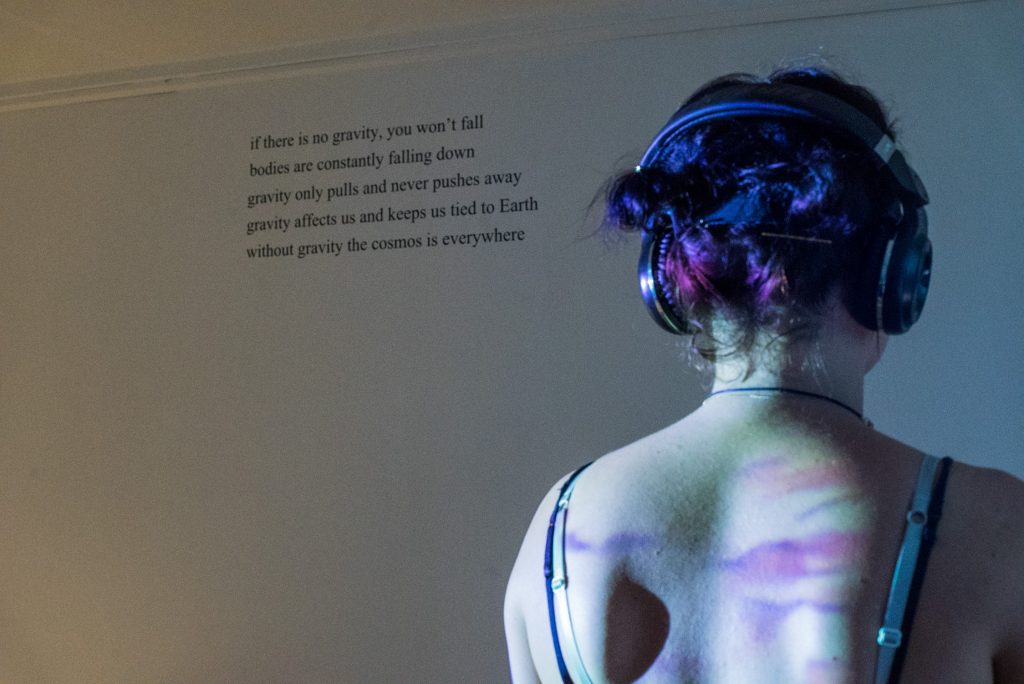 Needless to say, 'Weight' was an immersive experience, and a challenging one as well. With one sense heightened, evoking subjective experiences, responses span out across the widest scale of emotions. A project like that requires a very attentive and thoughtful guidance, particularly when reaching into the depths of one's psyche, you're never sure what you are going to find there.
Aistė's work included a certain extent of vulnerability and the necessity to trust others, as you were guided blindfolded in a tiny room, while weights settled on your shoulders, covering greater distances in your head than you do in the physical world. And when the blindfold was removed, to share your experiences with others.
Yet Aistė has proven herself to be up for the challenge. She is careful, attentive to details and experienced, as she has previously worked with the Theatre of the Senses in Lithuania, and Folkestone's own Touchbase Care, a community group where people with physical disabilities, mild learning difficulties, neurodiversity and sensory impairment are supported in arts, education, access to work, recreation, health and well-being.
3 days with 3 performances each day. So much weight placed and lifted off people's shoulders.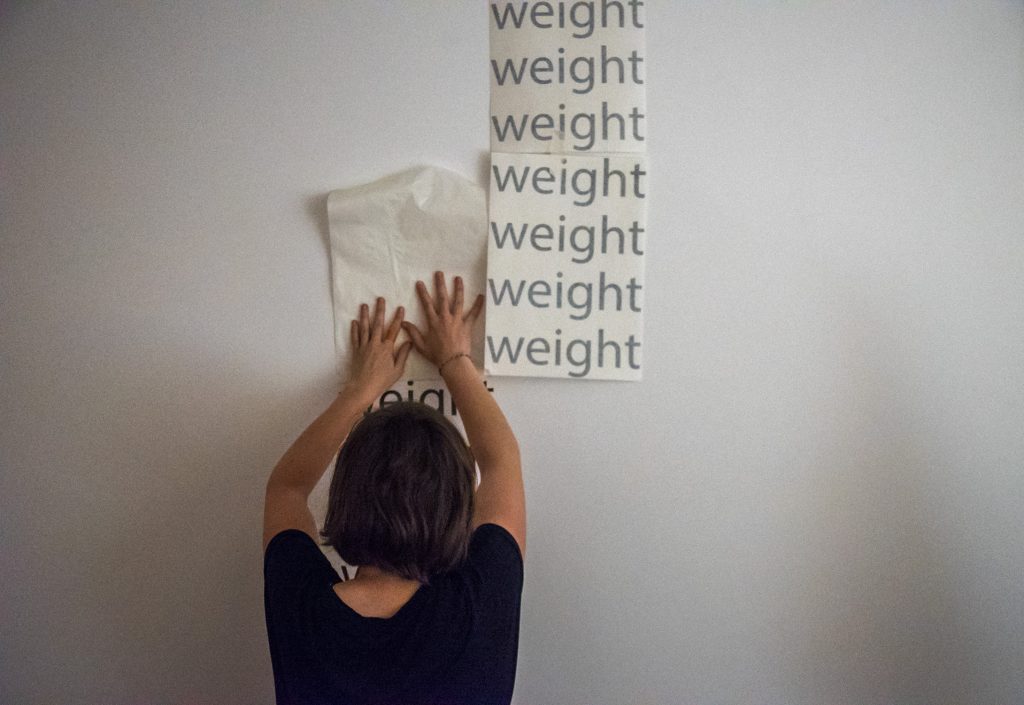 Author of the text: Agnė Poderytė