The words have spoken. Laura Adel's residency
This text discusses the artist's collaboration with the public in June 2023 in Wrocław. The first part provides a report on actions and a record of Laura Adel's working methods with Anna Garasko, Franciszka Drozd, Dominika Chwaster, Marta Sieczkowska, Maciej Brys, Barbara Krupa, Sonia Obolewicz, Wojciech Laskowski, and Iza Ataman-Krok. The second part comprises notes on specific projects produced during the meetings.
Part 1: Record
Words serve as an essential form of communication; they remind us of our daily responsibilities, evoke memories, aid in expressing emotions, or simply convey information and creative ideas. All of this is made possible by words. Their significant social function is also evident in public spaces, where they appear on walls, billboards, or in less conspicuous places, initiating dialogues with their surroundings. Words allow us to personalize spaces, making them less anonymous and more familiar, more truly ours. They are spoken. Unsurprisingly, contemporary artists often incorporate these everyday means of communication into their work, finding public spaces more compelling venues for their art than galleries and museums.
During Laura Adel's residency, an artist originally from Gdańsk but currently residing in Wrocław, workshop participants had the opportunity to focus on the aforementioned actions and create their own messages in public spaces. Four meetings titled "The Word of Mouth" took place at Recepcja, one of the premises of the Wrocław Institute of Culture. This location resides within the courtyard of ul. Ruska 46, where numerous cultural institutions, art studios, and other organizations operate. The small courtyard, nestled between townhouses, teems with life at night and exudes tranquility and inspiration during the day.
In her meetings with the group, the artist discussed her emotional approach to notes and the various ways of expressing words in public spaces. She paid attention to the participants' stories and thoughts, their handwriting, and their ideas for utilizing the workshop elements: wooden stamps, beads, magnetic film, markers, and stickers. The selection of these workshop tools revealed more about the artist herself, who has worked with words extensively, focusing on their form, placement, and method of inscription. By providing similar tools to the group, she aimed to explore alternative forms of artistic actions and how the choice of words placed in a space reflected individual personalities.
The next phase involved excursions to the parks surrounding the city's moat, the underground passage at pl. Jana Pawła II, and ul. św. Antoniego. Ultimately, the urban micro-interventions created were left in their respective locations or vanished quickly due to heavy rains. Their ephemeral nature emphasized their value, with the only evidence of their existence being the photographs taken by Laura and other participants. The artist intended to compile a digital collection of memories, notes, and photos summarizing the workshops, enhancing it with personalized annotations on the collective work.
The series of meetings sparked actions that some participants continued and are still pursuing at home. A notable moment at the end of the workshops was Franka's remark, a regular attendee, who expressed her appreciation for the relaxed outdoor atmosphere. Additionally, Ania recalled her university art classes from her days at an academy in Ukraine. She enjoyed the meetings at Recepcja as they allowed her to feel as if she had returned to those creative times.
Part 2: Subjectively
Iza and Maciej – Izunia i Maciej
One of the initial tasks during the workshops was to create a personalized record of one's own name, a record that should tell the author's story. This seemingly simple task consumed a considerable amount of time. The playful formal methods and childlike execution techniques were not as straightforward to replicate when it came to depicting oneself, one's interests, and adult life. Surprisingly, during the last workshop, some participants overcame this hurdle and produced sensitive and significant art pieces. Subsequent meetings focused on contemplating words and places with deeper and metaphorical meanings. Each creation, even to a passing stranger, could be interpreted individually, gradually becoming absorbed into the urban tapestry.
TOUCHED BUT NOT MOVED – Laura
During one of the tours, Laura proposed that each participant find an object in the street capable of carrying a message. On their way back from the walk, the transformed object was to be photographed in a location chosen by the author.
That's how 'TOUCHED BUT NOT MOVED' came to be featured on a piece of bubble wrap. It added multiple dimensions to an object found by chance, acquiring new significance when placed in a skip. The forgotten piece of bubble wrap, with all its bubbles popped, transformed into more than just discarded trash; it became a manifesto or slogan, accentuating its inherent uselessness even further. In addition to the word intervention, the artist also initiated a micro-ecological one – she cleaned up after her predecessor.
'Stand out/up' – Laura
During the tours, workshop participants selected natural objects such as leaves, seeds, and pieces of wood. Some drew inspiration from urban waste, torn posters, or existing commentaries, which could be considered acts of vandalism. In contrast, Laura encouraged participants to create subtle interventions that wouldn't deface their surroundings but would prompt reflection. These interventions could vanish at any moment, leaving only photographs as proof of their existence.
'Kocham Cię' ('I love you')
'Nic nie szkodzi…' ('That's ok…') – Franka
Franka placed this slogan on a registry office building. The handwritten dialogue was intended to be affixed with magnets to the red plaque displaying the institution's name. However, due to malfunctioning magnets, the slogan was positioned above it. This small note offered a subtle commentary on wedding ceremonies held there and provided a somewhat ironic perspective on marriage.
'Zatrzymaj się' ('Stop') – Sonia
'Oddech' ('Breath') – Marta
The micro-actions extended beyond the vicinity of the meeting hub. Some participants continued their work at home or on the streets, staying in contact with Laura by emailing photographs. Sonia's slogan encouraged people to pause for a moment in a park, unwind, and connect with nature. Marta adopted a similar approach, placing a magnetic sign, 'Breath,' near her house on a pole as a reminder of the importance of her current well-being.
'Zmieńhoryzonty.pl' – Domi
Domi embraced an activist slogan, urging action, and incorporated it into her interventions. Poetically, she prompted passers-by to contemplate her original messages. By blurring the word 'nowe' ('new'), she introduced a fresh dimension to the website's address. This powerful slogan, related to the Wrocław film festival, seamlessly integrated into the urban landscape, particularly since the cinema was just around the corner.
'Pisanie automatyczne' ('Automatic writing') – Ania
Ania worked delicately and discreetly in the Wrocław space, choosing to engage in automatic writing on adhesive notes. Her notes remained concealed behind peeling wall paint. Through these subtle interventions, she encouraged people to decipher the randomly written words. As is the case with automatic writing, reading the true message isn't always straightforward, sometimes consisting of unconnected words. Her works differed from advertisements; they possessed a more personal touch. Despite being hidden within the cracks of paint, her intervention was highly visible in the urban environment.
'Nieznany alfabet i performatywność słów' ('Unknown alphabet and the performativity of words') – Basia
Basia found pleasure in performing words. Given her involvement in dance and movement, Basia instinctively inscribed vital messages on her body, alluding to the performativity of words as not only a means of communication but also of action. Recognizing the performativity of words can help us take responsibility for what we say and appreciate the power that words hold. They speak to us.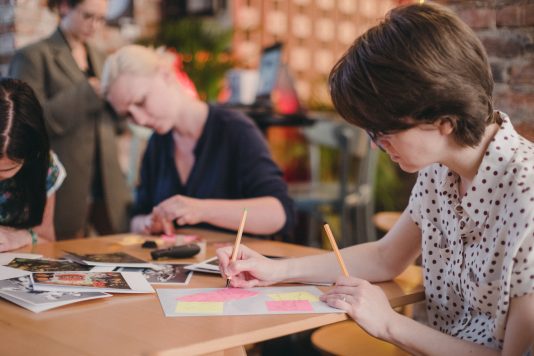 Workshop participants: Anna Garasko, Franciszka Drozd, Dominika Chwastek, Marta Sieczkowska, Maciej Brys, Barbara Krupa, Sonia Obolewicz, Wojciech Laskowski, Iza Ataman-Krok
Resident: Laura Adel
Local artist: Miruna Gheordunescu
Curatorial text by Paulina Brelińska-Garsztka