URBAN ARCHIVE
Emerging artist: Daniel Tollady (UK)
Residency place: Prague Biennale (Prague, Czech Republic)
Practice: Installation
Featured artist: Jan Pfeiffer, David Možný, Daniela Baráčková, and Intermedia Atelier FAVU VUT led by Pavel Sterec
Curated by: Elis Unique
While tourism presents many opportunities for a city, there are certain challenges related to it as well. As the city of Prague embraces tourism and creates space for stag parties and Thai massage parlours, the residents are moving further and further away from the city centre, taking with them any semblance of authentic life. The gaps they leave behind become AirBnB rentals, increasing the capacity for tourism and providing the owners with more and more money, the process becoming a symptom of itself. As it currently stands, there are already around 14,000 AirBnB properties available, encouraging the rise of the souvenir shop and other imitation 'cultural' attractions at the expense of authenticity.
As part of his residency with the Prague Biennale, Daniel Tollady was invited to create a new body of work to be exhibited in their Urban Skanzen exhibition alongside other selected Czech artists, held in the Clam-Gallas Palace in central Prague. The term 'skanzen' originally refers to open-air museums, but in this context, however, is a more sensitive, yet derogatory description of attractive historical parts of cities where the excessive inflow of tourism has deprived the city of authentic life. In response to the subject matter, Daniel created the Urban Archive, an installation that combines a breadth of field research conducted during his month-long residency there.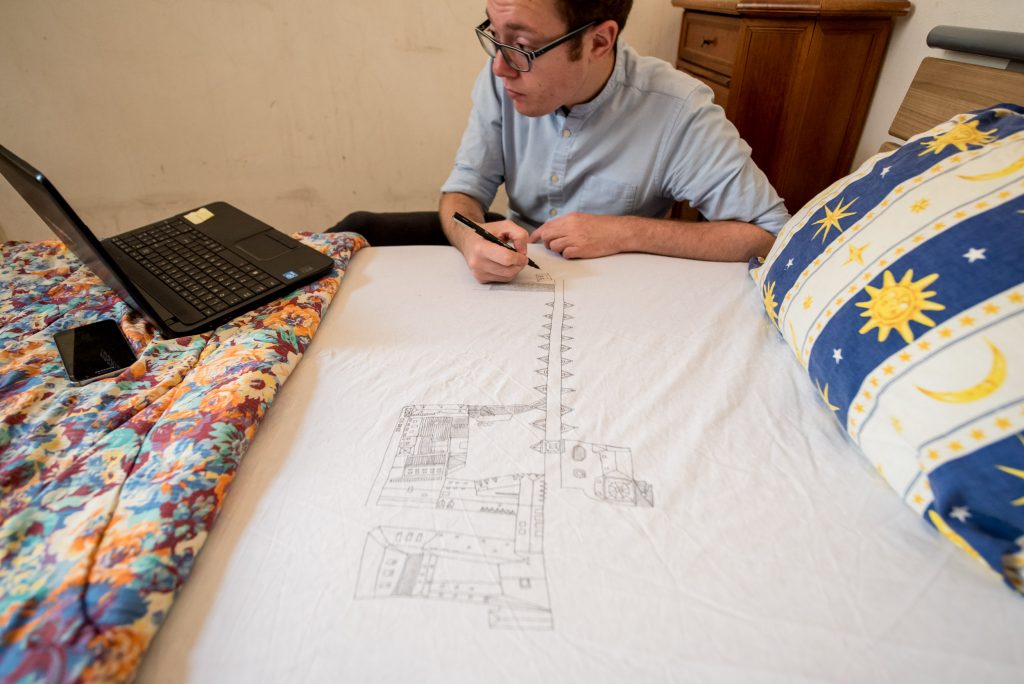 The Urban Archive functions on three plateaus: one of domestic space, one of personal experience and one of quiet protest. While each is distinctive, the boundaries are undefined, allowing them to exist symbiotically and simultaneously through the same materials at the same time.
Using a hand drawn map of Prague as a starting point, he began mapping destinations and routes that he had taken through his own experiences, marking locations of personal importance or highlighting specific tramlines or buildings. Complemented with the documentation of isolated urban details, these subjective notations eventually began to encapsulate networks of local stories as he continued to embed himself further into the community of Central Prague. The map functions as a record of experience and datamining that then disperses itself throughout the environment of a bedroom, reproduced on domestic objects and amongst the household items gifted to the installation by the people he met.
Including the wardrobe found in the hidden recesses of the Clam-Gallas Palace, and the bed donated by a particularly insightful resident, every item used within the installation was given to him by somebody that lived within central Prague, either before the exhibition opened or during the opening event itself. The installation, on first impressions, may seem like another AirBnB apartment appearing in an available space, but Daniel wanted it to form the basis of a quiet protest, a reinstatement of authentic domesticity in the city centre, even if only temporarily. The objects become totems of authentic life in a space where this no longer exists, in a district where this is quickly disappearing.
Concerned with the creation of a fictional spatiality, Daniel Tollady uses generative drawing processes and intuitive structural compositions to describe a new spatial experience. A spatiality that manifests itself through analogue drawings and physical 1:1 structures. Daniel's practice is a hybridisation of spatial design and fine art using his architectural knowledge as a backdrop for producing his art pieces. After graduating with a BA in Interior Architecture & Design in 2009 from the University for the Creative Arts, Daniel began pursuing his career in the visual arts. Following that, Daniel then went on to gain an MA in Fine Art in 2015. Having studied two different disciplines has allowed Daniel to develop a unique approach to the arts, incorporating drawing with different processes and theoretical information gained through artistic research that is merged into his methodology.
During his career and as an artist, Daniel has exhibited his works widely across the South East of England, in both group and solo shows, and he has created installations for a number of events, including the Ramsgate Arts Festival, the Cheriton Light Festival and for the Folkestone Triennial Fringe. Alongside this independent process, Daniel likes to pursue collaborative projects that operate between architecture and fine art. Being currently a Sessional Tutor for Stage01 BA Architecture and Interior Architecture and Design at the Canterbury School of Architecture (based at the University for the Creative Arts), and a Creative Tutor for the National Saturday Club programme at the University for the Creative Arts in Rochester, Daniel teaches and regularly facilitates workshops that push the boundaries of design-thinking.
The final exhibition was opened on 12 July 2018 and was open from the 13thof July to the 3rdof August 2018. There was also a public panel discussion Magic Talks subtitled 'Monuments of Integration' on the 11thof July. The opening of the final exhibition featured Daniel Tollady, three local artists (David Možný, Jan Pfeiffer and Daniela Baráčková) and a Studio project by Intermedia atelier of FAVU VUT.