ELEPHANT SONGS
Emerging artists: Vojin Ivkov (Serbia)
Residency place: META Cultural Foundation (Slon, Romania)
Practice: Video art
Local artists: Larisa Crunţeanu
Curated by: Raluca Elena Doroftei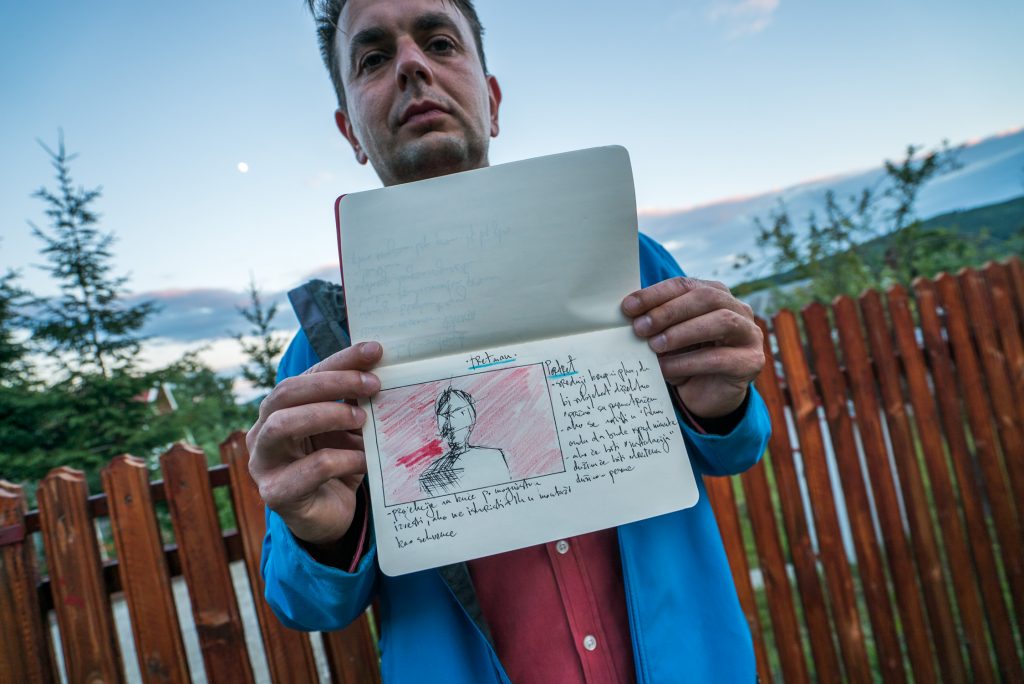 Those from smaller villages know how tightly knighted communities here can be. Everyone knows one another, have known one's father/ mother/ sister brother, most of the roots are deep and far-reaching. But what happens when a rather isolated community is approached by artists? What can they offer to one another? We can tell for sure that answers are not so easy to predict.
This MagiC Carpets story brings us to Slon, a small village in a mountainous region of Romania, where an emerging MagiC Carpets artist came to explore and capture the residents' way of life.
Vojin Ivkov is based in Novi Sad (Serbia). He graduated the University of Novi Sad, Academy of Fine Arts, Department of New Art Media in 2009. Vojin has been involved in video art through many forms, also the basis of his work includes the interactions between photography, film, and installation.
Topics that interest Vojin are evident from his previous projects. In general, it is people. Every time, additions to his list of projects feature a disadvantaged group or addresses historically significant events or flaws in society that most of us choose not to think about because it is too painful or because ignorance is bliss.
Some of his notable works include a project to auction off an artist in order to suggest criticism for the present-day society by reducing the artist to nothing more than goods. "Theatre through Dialogue" is an audio/ video installation to create a dialogue between the city and a theatre building. Documentary film "Joca's Island" follows a former political prisoner and captures how he deals with a seven-year sentence. "Still broadcasting" is an audio/visual installation/ film about the Radio television of Vojvodina that was a witness to the historical events in the melting pot of nations that was Yugoslavia, and especially the region of Vojvodina. Its headquarters, that was once considered a state-of-the-art building, was bombed. Spectators see the journey of the history of Radio television of Vojvodina and Serbia country by pictures projected on the ruins of that very building. Finally, "Sale no mobarak" (Happy New Year) is a documentary film about a New Year's Eve with refugees fleeing across Europe.
But let's get back to Slon, which is a small village situated in Cerașu, Prahova, with a community of simple local people respecting the old traditions but trying to connect to the new realities of our contemporary world as well.
Villagers are sometimes open to the residencies organized here by META Cultural Foundation, eager to meet the artists, directors who come to visit their village, to participate in the works, to "be actors" – and other times a bit reluctant to "the new", to foreigners, to cameras, to sophisticated technical equipment. Around 100 local people participate in some of the events (from the population of a little bit over 2000).
At his arrival in Slon, Vojin Ivkov was surprised of the large number of children in the village. He was interested in the activities of the villagers, he explored the musical culture in the community and the relationship between the modern and the ancient, the young and the old. Vojin worked with a community of children, as well as with a community of elderly women in Slon, which had as a common element the song.
The final product of residency, a video art/short movie called Elephant songs. "Slon" in Serbian language means "elephant". Through the songs of children and elderly women from the village, exploring the relationship between young and old, Vojin created the portrait of a village, with its daily activities, and of the people that are living here.